Vietri sul Mare: Municipality of ancient ceramics tradition.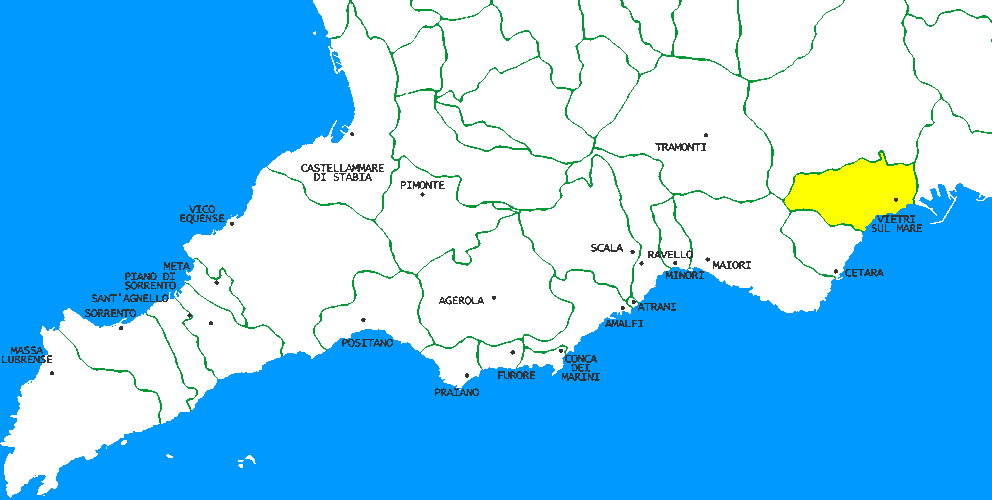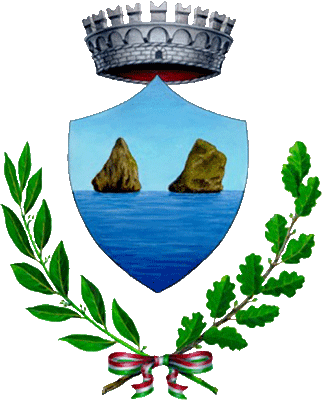 The entrance door and first town of the Amalfi Coast when coming from Salerno, you'll immediately realize you reached paradise once the first views open up to you. Anciently outskirts of Salerno, then hamlet of the neighbor Cava de' Tirreni, Vietri sul Mare became an independent municipality early in the 19thcentury. Its most famous product is ceramics, used to make tiles, ornaments, household goods and much more, including the typical "ciucciariello" (little donkey), in honor of the main means of transportation within the town back in the days.
The center of the town is by the Amalfi Drive, a bit higher than sea level, and there you can visit the main street with shops and the beautiful St. John Baptist's church. To reach the sea, you can go down to the hamlet Marina, while the other ones are way up in the mountains, they are much quieter and more rural, just as beautiful to visit. There's many interesting old towers and churches to see around the town and its hamlets.
The hamlet Albori, like Atrani, Conca dei Marini and Furore, has been included in the exclusive Club "I Borghi più belli d'Italia".
Vietri sul Mare… from the cycling point of view:
Vietri sul Mare is a mandatory stop for one way cycling trips of the coast starting or ending in Salerno, or a great destination for rides from Positano/Amalfi in the low season. We don't recommend it much in high season because of the heavy traffic that can be found on that stretch, but it's still possible to avoid it with an early morning start.
It's not a good base for a multi-day trip of the coast, since it is at its edge and several km away from more route options, but it could be a good choice if you're not focusing on the Amalfi Coast alone, and want to be more connected by public transport (thanks to the train station) to reach other areas like Naples or Cilento. There's also some nice riding north of Salerno, but it an area we don't focus on and don't have many suggestions about.
Staying within the town (or extending the route if you come from Amalfi), it's possible to ride down the one way bumpy road to the beach of Marina and close a short loop climbing back up, or a more demanding ride to the hamlets Albori, Raito, Benincasa and Dragonea. From the latter, you can continue until the Holy Trinity Abbey of Cava de' Tirreni, just past the border with the neighbor town, at its hamlet Corpo di Cava. It's a great but quite challenging climb, that you can conclude by either riding back on the same way, or closing a loop with the easier but busier main road from Cava de' Tirreni.
From the Abbey, there's some off-road trails heading to towards the Sanctuary of Virgin Mary Advocate in Maiori; the stretch until "Cappella Vecchia", halfway, is one of the few on the coast quite suitable for mountain biking, however it has several challenging parts and we don't offer this kind of tours (nor mountain bike rental) at the moment. Some easier off-road trails (with steps now and then) connect the various hamlets as well.
If you don't mind traffic, it's possible to ride all the way to/from the central train station in Salerno, where we can offer delivery/pick up of the bikes, so you can start a ride right away at your arrival.
We can bring our rental bikes (up to 4 at a time) here at a 25 € fee one way, 40 € for both delivery and pick up.
Don't stop here! You can find these towns bordering Vietri sul Mare:
Cava de' Tirreni, Cetara, Maiori and Salerno.
Some attractions we recommend here:
The Two Brothers
Similar to Capri's Faraglioni, these towering rock formations in the sea make for a great view. Legends say they were two shepherd brothers (hence their name "I Due Fratelli") who died trying to save their flock from the stormy sea, and were then transformed by a divine being.
Provincial Museum of Ceramics
Not very famous because of its hidden location away from the center, in the hamlet Raito, this museum is inside the gaudy Guariglia Villa and a good stop if you're interested in learning more about the history of the local ceramics.
This is just an overview with our picks and there might be more worth seeing: we encourage doing some more research to also check updated opening times, fares and other details of the attractions listed.
Yearly local events worth mentioning:
Saint John Baptist's patron feast
June 24th
As per tradition, the patron Saint John (Giovanni) Baptist is celebrated with a Mass, procession and firework display.
Lemon Festival
July
The most typical product of Amalfi Coast is used in many dishes that can be tasted at this summer festival in the hamlet Dragonea.
Cicada Festival
August
Locally called "cicale" (cicadas) due to their sound while munching them, fritters of zucchini flowers are the star of this summer festival held in the hamlet Raito.
Donkey Balls Festival
August
This curiously called local potato croquettes only share their shape with the animal's privates, and can be tasted together with other dishes at this festival in the hamlet Albori.
Porcini Mushroom Festival
August
Enjoy mountain dishes starring the tastiest mushroom found locally, at this summer festival in the hamlet Dragonea.
During these events, the town gets busier and there might be heavy traffic or few parking lots available: plan carefully if you are travelling to or through it on these dates.
Events may change through the years, and some may be skipped altogether. Please look for an updated schedule of the specific ones you would like to attend to.