Meta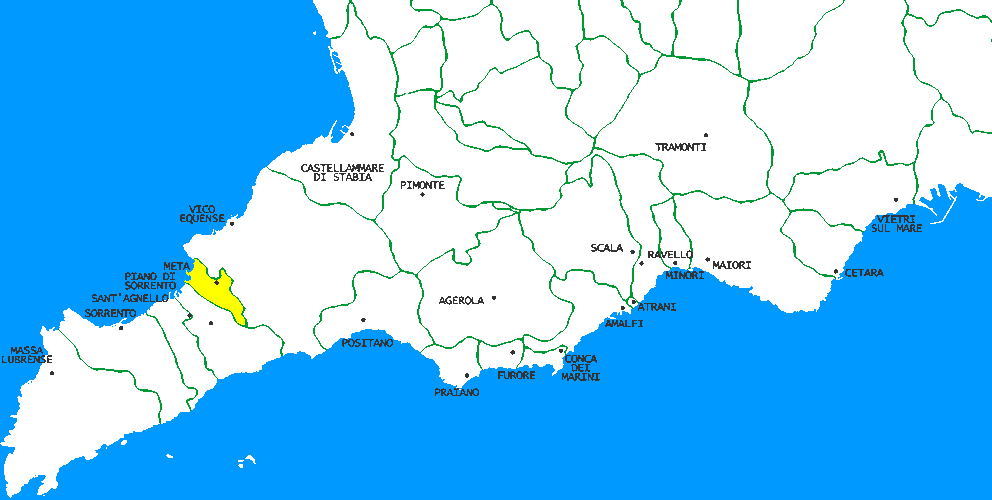 Nestled between Piano di Sorrento and Vico Equense, Meta is a small municipality below Astapiana and Casini hills, part of the Sorrento Coast. Its name (literally translated as "destination" or "goal") has doubtful origins, as it can be tied to several meanings; the most likely ones come from its position, hosting a milestone that marked the end of Sorrento Peninsula, or from old Mediterranean languages, in which it referred to a mount or high grounds. Despite the small size of the village, its Alimuri beach, one of the largest sandy ones in the area, is quite appreciated by local bathers, and keeps an history of maritime traditions, as it was once a base for crafting small boats in use by the Kingdom of Naples.
You may cross this town on your way to Sorrento, or doing some longer bike route, and will probably notice how busy the main road usually is, quite in contrast with its inner streets, seaside and the hamlet Alberi up the hill, much quieter. At the center, you can see the church Saint Mary of Lauro, with its tiled dome and bell tower next to it; it takes the place of an ancient temple in honor of the goddess Minerva. It is also the ending point of the famous SS163 road "Amalfi Drive", coming all the way from Vietri sul Mare, at the other end of Amalfi Coast.
We can bring our rental bikes (up to 4 at a time) here at a 40 € fee one way, 70 € for both delivery and pick up.