Agerola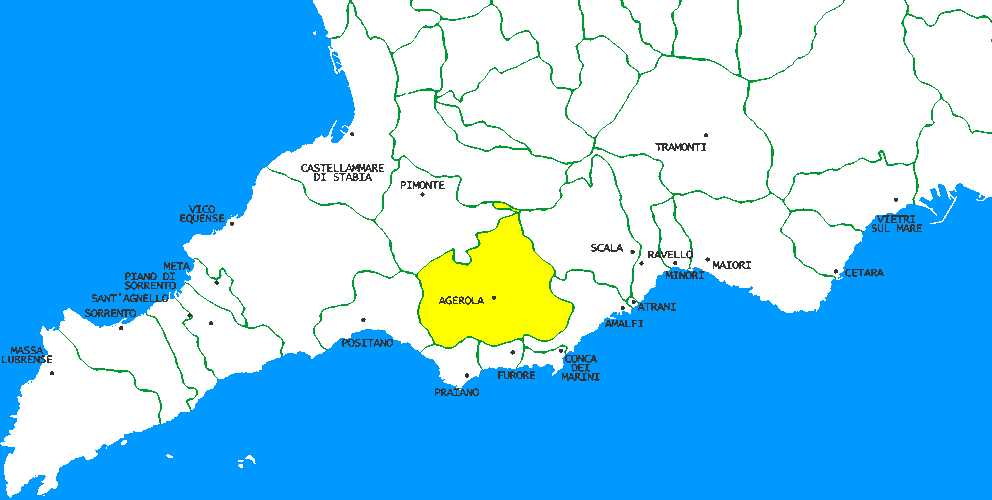 It might not be a famous destination, but it's definitely our favorite in the area for outdoors activities; while not officially part of Amalfi Coast, this rural town overlooks it from above Furore, facing Amalfi on its eastern side, Positano from west. The municipality doesn't have a main center, but is split into several hamlets over a wide plateau surrounded by Lattari Mountains. The most known is Bomerano, at one end of the famous Path of the Gods leading to Positano; from there, you can also reach the Paipo lookout, by a steep climb that is an appreciated challenge for fit cyclists. To the opposite side, instead, there's a much easier loop leading to the hamlet San Lazzaro, where you can find Castle Lauritano and its breathtaking view above Amalfi.
Agerola's economy is mostly based on farming, and food here is as genuine as it can get: you should definitely plan a lunch stop if you are in town, and taste local vegetables, lunch meats, breads and, most of all, the special "fior di latte" mozzarella. But the tourism sector is also slowly increasing, thanks mostly to the trekking lovers, who find here a wide choice of trails to follow in any direction. Some of them are suitable for mountain biking, like the climb to Saint Mary of the Mountains in Scala, but you'll need some good GPS routes or an expert guide to try those, as it's quite easy to get lost, and very well trained legs to face the very steep and slippery slopes. Because there's very few off-road routes and it's a more niche activity given their difficulty, we don't offer that kind of tours or mountain bike rental at the moment.
Back to road cycling, the best way to reach Agerola is by the SS366 through Furore; as soon as you enter the town, you will be at the Cima Coppi, with a monument to the Italian cyclist champion Fausto Coppi, who astounded the crowd with his overwhelming victory of a "Giro di Campania" stage ending there in 1955. Keep following the main road until the 1 km tunnel at the top; once there, you have several choices: turn right for the easy San Lazzaro loop, head back and then right to head towards Paipo, cross the tunnel and head down on the other side for a longer ride to Pimonte, Gragnano, and eventually reach the Sorrento Coast (we don't recommend this route because of the heavy traffic and not so nice roads you can find on the other side), or just head back the same way to the Amalfi Coast.
We can bring our rental bikes (up to 4 at a time) here at a 25 € fee one way, 40 € for both delivery and pick up.