Piano di Sorrento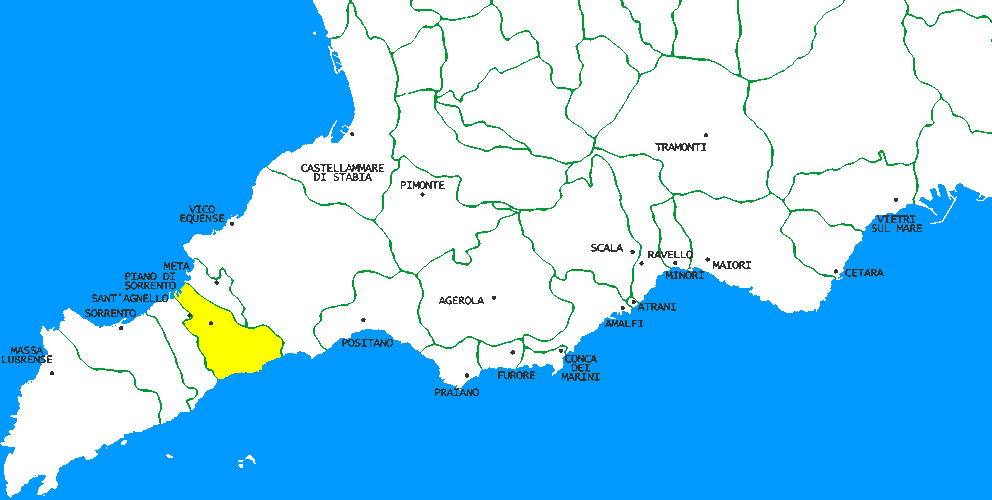 Due to their proximity, similar names and the fact that Piano di Sorrento, Sant'Agnello and Sorrento are almost merged to each other, with borders hard to tell without a map if you don't know the area, Piano di Sorrento may be easily confused as part of the more famous main town of the peninsula. It was, in fact, in ancient times, when Sorrento covered a wider area but, after centuries of seeking independence, it become its own municipality, and was then split with Meta and Sant'Agnello, in the 19th century.
If you are driving to Sorrento, you'll most likely go through the busy main road Corso Italia, which connects the towns from Meta to Sorrento; if you are cycling, instead, we suggest taking one of the quieter secondary roads, that can lead you the seafront and to the beautiful park and viewpoint of Villa Fondi de Sangro. Among the few hamlets, Colli di San Pietro hosts a main crossroad that acts as the western entrance door to the Amalfi Coast: once at the top of this hill, you can start descending towards the southern coast, and following the Amalfi Drive towards Positano. But, although not far, it's not that easy of a hill to climb, with a quite steep stretch; if you are coming from Sorrento, we actually suggest using the secondary Nastro d'Argento Street in Sant'Agnello to climb up to Colli di San Pietro: it's a tough climb as well, but a quieter road with a bit less steep sections. Unless you try a much longer loop around the peninsula, you can't avoid a short though tough climb when cycling to the Amalfi Coast from west, so be ready for it or consider getting some help from the e-bikes!
We can bring our rental bikes (up to 4 at a time) here at a 40 € fee one way, 70 € for both delivery and pick up.