Pimonte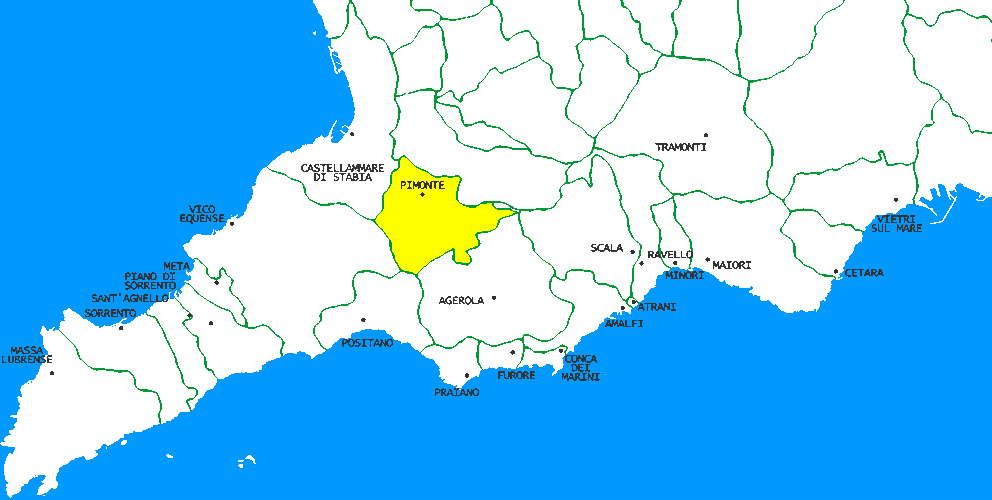 It might be one of the less known municipalities of the peninsula, due to its location away from the coast, facing north and Mount Vesuvius from below Agerola, but you may drive through it on one of the possible ways to the Amalfi Coast from Naples area. Rural town like Agerola and Tramonti, Pimonte's economy is mostly based on farming, and you can appreciate the genuineness of local foods.
Its main road is one long climb surrounded by nature, in the shade most of the day, hence a good way to escape the summer heat; it can be part of a quite long loop embracing Sorrento Peninsula and Amalfi Coast, but one we usually don't recommend, because of the heavy traffic you can meet anytime heading out and in the peninsula.
With a hike (or mountain bike, minding the very tough climb back) from Palombella tunnel connecting Pimonte with Agerola, you can reach the old Pino Castle, with its beautiful viewpoint overlooking the town and the whole Gulf of Naples.
Also worth mentioning, on the way to Castellammare di Stabia, the neighbor town Gragnano, famous for its food and wine; pasta produced there is exported worldwide, and a specialty you should taste if passing through is panuozzo, pizza's brother made with the same dough, but as a sandwich, baked in a wood-fired oven.
We can bring our rental bikes (up to 4 at a time) here at a 40 € fee one way, 70 € for both delivery and pick up.