Enjoy our beautiful landscapes with a local friend…
If you read about us, you might have noticed that Cycling Amalfi Coast is a small company based on passion above business. We try to show that love during our guided tours and, if you choose our services, we would like you to consider us as a local acquaintance, rather than an enterprise. We are travelers at heart before being hosts, and know very well how much it means, when you are in a foreign country, to know some local people who speak your language and help you understand the customs and culture of the place, while pointing out any small details or hidden places you would likely miss while going on your own.
Our guided tours are more like a leisurely ride among friends, instead of a touristic trip with a guide-customers relationship but, despite the informal mood, we guarantee the reliability and professionality you would expect from a top quality service.
Half day tour
Are you looking for something different to do in Amalfi Coast in one morning or afternoon? Try a refreshing cycling trip! From Amalfi, with e‑bikes we can easily reach Ravello and the neighboring village of Scala, for a panoramic tour facing the coast.
On regular bikes, it's also possible to get with ease to the peaceful fishing village of Praiano, in the heart of the coast, between Amalfi and Positano. Going at a good pace we can even reach Positano itself, and have some free time to stop for a visit to this more worldly seaside town, before heading back. It's the best way to experience a few hours outdoors on the coast, doing some healthy exercise and leaving no pollution behind.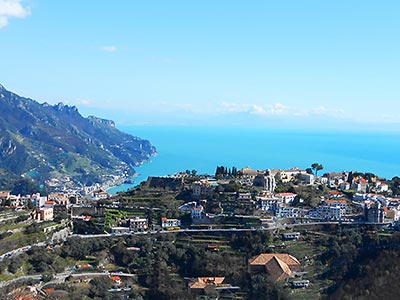 Full day tour
A full day is long enough to enjoy a slow and relaxing bike tour without any rush. From Amalfi, we have many choices: with e‑bikes, we can go to Ravello, where you'll have plenty of free time to visit this balcony on the coast, and then keep riding up the mountains till the Chiunzi Pass, a viewpoint over the other side of Lattari Mountains, in front of the Vesuvius volcano and the Naples area.
E‑bikes are also great for climbing up to Agerola, a rural town with the best views over Amalfi Coast, where we can stop for lunch and taste the best local food you can find around. An easier route to do with regular bikes is towards Positano, and further on towards Sorrento. A full day will leave us plenty of time to enjoy the town and have more stops on the way.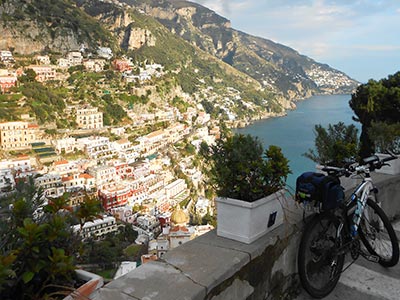 Prices
For our day trips there are two possibilities:
a half day tour can be scheduled for the morning or afternoon, and lasts between 3 and 5 hours;
on a full day tour, you can enjoy a slow and relaxing experience, longer stops in the reached places, with free time for visits, and the possibility to ride on longer routes.
At lunch time, you can choose either to get some snacks on the go, have your own packed meal, or go for a proper lunch stop at a typical Italian restaurant along the way, to taste the best local food and wine (not included in the tour price).
Our guided tours are available to individuals, couples or groups of any size, but the price changes according to the number of participants. While making a reservation, you can choose whether or not to keep it a private tour, or leave it open for other people to join in. The more people take part, the cheaper it gets for everyone!

Tour

(Private?)

Price
Half day
75 € fixed + 50 € per person
Full day
150 € fixed + 75 € per person
Multi-day
CONTACT US
FOR RATES
Private tour
Groups 11+ people
Early bird? We have some great deals for you: book your tour at least one month in advance to receive a very special discount!
Contact us to find out more.
Included in guided tours:
Italian and English speaking local guide;
bike rental from any category;
helmet;
sports drink;
coffee or ice cream break.
Transportation fees will be added for tours starting or ending in towns other than Amalfi.
Too much? Save some money and ride at your own pace on our rental bikes!