Sant'Agnello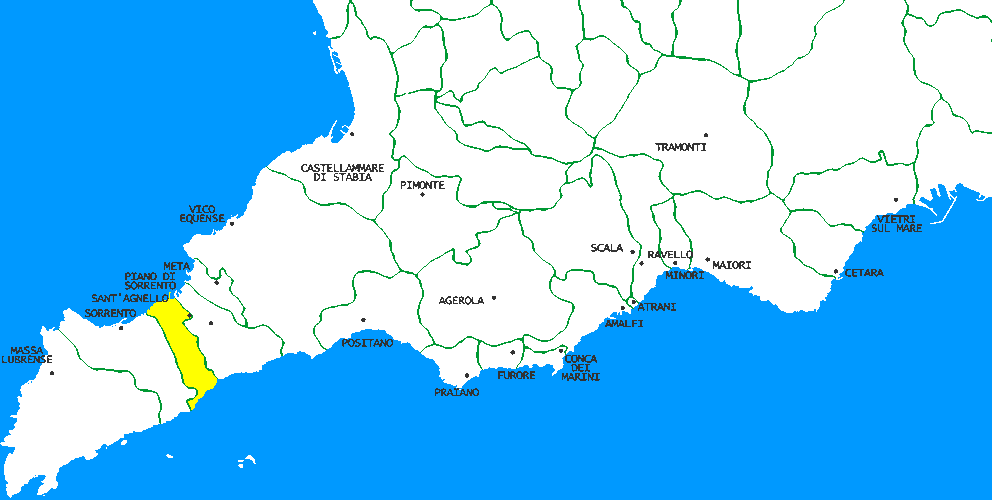 Between Sorrento and Piano di Sorrento, there is the town Sant'Agnello, which it shares its history with, until it became its own municipality late in the 18th century. It takes its name from its patron Saint to whom (together with Saint Prisco) the beautiful church in the main square is dedicated. By such square, there's an important crossroad to keep in mind during your rides: the main road Corso Italia is always quite busy, so from here we recommend taking the Nastro d'Argento Street south if you want to climb up to the hamlets or to Colli di San Pietro to enter Amalfi Coast, or the detour to the north to continue towards Sorrento on a secondary route. In that direction (but minding some one way streets), you can also reach some beautiful viewpoints behind the church of the Capuchin friars, and at Marinella Square, near the historical Villa Crawford and above the little beach of the same name, connected by steps.
Heading up the mountains, you will reach the hamlet Colli di Fontanelle, known for a marketplace/festival held in September showcasing the local products. Once there, you can easily reach Colli di San Pietro to enter Amalfi Coast, take a short detour on Belvedere Street to reach a viewpoint over the southern coast, or continue climbing a very steep section towards Sant'Agata sui Due Golfi, hamlet of Massa Lubrense.
We can bring our rental bikes (up to 4 at a time) here at a 40 € fee one way, 70 € for both delivery and pick up.