Maiori: Ancient Rheginna Maior.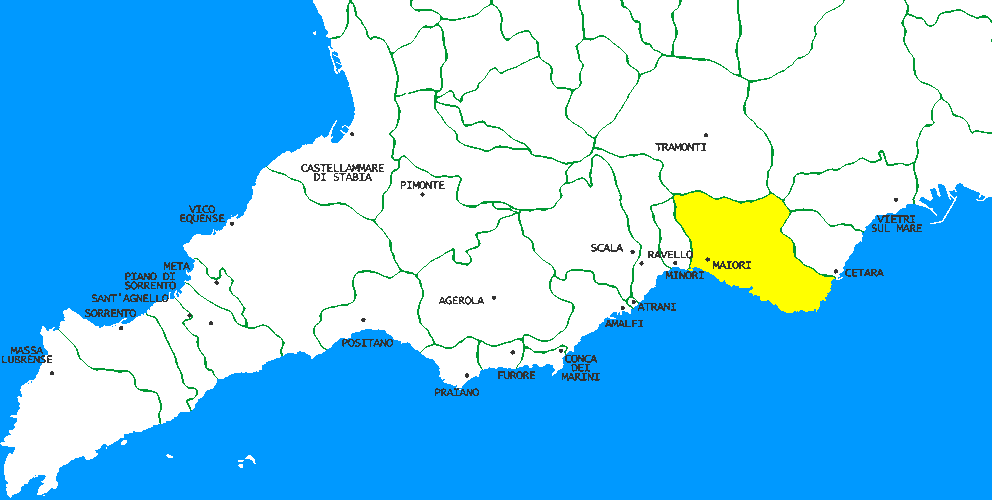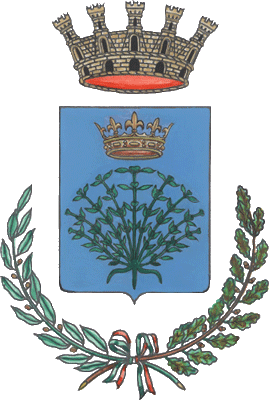 The municipality of Maiori covers a wide mountain area, but its center lays on the seaside, where you can also find the longest beach of Amalfi Coast. The wider flat area compared to other towns of the coast, is due to a devastating flood that destroyed part of the city in 1954. That's also the reason why the old town is now mostly made of modern structures, rebuilt following the event.
Its seaboard is dotted by several watch towers, part of the larger ancient defense system of the coast, and its mountains host numerous lemon groves.
Maiori today is a great tourist resort, with many hotels, beach facilities, restaurants, cafés and a lively nightlife, a perfect spot if you want to spend a few days on the beach having everything at hand, with lower prices compared to other more popular towns. But there's also lots of hiking around, so don't get too lazy and go explore the very enjoyable inland as well!
Local specialties include desserts like the unique chocolate eggplant and the almond paste treats.
Maiori… from the cycling point of view:
While it's a good base to try different routes on the coast, there's a lot to cycle within Maiori itself as well. With a relatively wide flat area, bikes are convenient for commuting as well, to move within the town center or enjoy its 1 km promenade. For a longer local ride, you can go as far as to its hamlet Erchie 10 km away, by passing over the mountains at Capo d'Orso (Bear Cape). Start the more challenging climb towards Tramonti, and if you reach all the way to Chiunzi Pass you can then close a loop coming back through Ravello.
We can bring our rental bikes (up to 4 at a time) here at a 15 € fee one way, 25 € for both delivery and pick up.
Some attractions we recommend here:
Sanctuary of Virgin Mary Advocate
Former monastery from 16th to early 18th century, it overlooks the coast from over 800 m altitude on Mount Falerzio, granting a view worth of the long hike required to get there. Reachable from Maiori, Cetara and Cava de' Tirreni (even by mountain bike from there, but only local experts dare to try that!), a Mass is still held in there on certain days of the year, when many pilgrims gather.
Abbey of Virgin Mary de Olearia
An hidden medieval abbey a few km from the center of Maiori, nestled in a cave and surrounded by olive trees, hosts many frescoes and a long history.
This is just an overview with our picks and there might be more worth seeing: we encourage doing some more research to also check updated opening times, fares and other details of the attractions listed.
Yearly local events worth mentioning:
Saint Mary Advocate's feast
Monday after Pentecost
Pilgrims gather up to the Sanctuary of Virgin Mary Advocate and enjoy a picnic in the countryside, but not before a Mass and a procession to a nearby cave, where it's said the Virgin Mary appeared to a shepherd, before the monastery was built.
Chocolate Eggplant Festival
August
Lots of local dishes featuring eggplants to be tasted at this summer festival, topped by the traditional chocolate eggplant dessert, a bizarre combination that will amaze your taste buds!
Fagiolata
August
Beans are the main star of this other summer festival in Santa Maria delle Grazie hamlet, and you can enjoy them in several local recipes, starting from the typical bean soup.
Saint Mary by the Sea's patron feasts
August 15th and third Sunday of November
Similarly to Amalfi, Maiori also celebrates its patron Saint twice, once in Summer on Ferragosto day, then again in November; the procession also ends with a similar tradition of carrying her statue running up the steps to the church.
During these events, the town gets busier and there might be heavy traffic or few parking lots available: plan carefully if you are travelling to or through it on these dates.
Events may change through the years, and some may be skipped altogether. Please look for an updated schedule of the specific ones you would like to attend to.