Massa Lubrense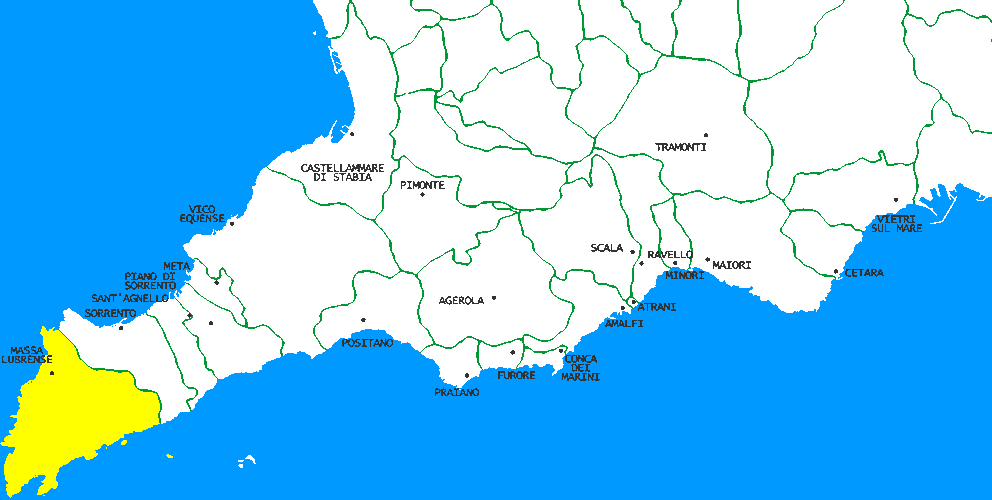 At the tip of Sorrento Peninsula, there is Massa Lubrense, with its many hamlets. With its quiet roads, it's the best place for cycling in the Sorrento side of the coast and, if you don't mind a little climbing (or if you use e-bikes for a little help), you can try different loops around it or detours to reach some amazing landmarks. The very tip, called Punta Campanella, hosts the lighthouse and ruins of a watchtower, and is reachable from the hamlet Termini by mountain bike. Nerano, instead, is connected by asphalt road, and from there you can keep descending to Marina del Cantone and its beach, or take a hike (not suitable for bikes) to the beautiful Ieranto Bay. Other remote beaches can be reached by some short detours, which however require some climbing, as the coast here is quite steep. All of the coast of Massa Lubrense is part of the Marine Protected Area Punta Campanella, including the tiny islands Vetara, Isca, Scruopolo and more.
Climbing up the mountains you reach the hamlet Sant'Agata sui Due Golfi (Saint Agatha on the Two Gulfs), which earns its name from the beautiful views you can enjoy from both sides of the mountains, facing the gulfs of Naples at north, of Salerno at east. At the very top of Deserto hill lies the Saint Paul Monastery, from which you can see the whole Gulf of Naples while facing Mount Vesuvius. Other great viewpoints are at the top of Saint Constantius mountain (which can be climbed almost all the way by road bike from Termini, except some steps at the end), and by Villa Murat, an historical building facing Capri island.
We can bring our rental bikes (up to 4 at a time) here at a 40 € fee one way, 70 € for both delivery and pick up.