All you need to know before cycling Amalfi Coast!
Cycling Amalfi Coast is an experience of its own, quite different from the regular cycling destinations, which has some downsides paid off by unique rewards. We want to make sure you know what to expect from such activity, and if it's the right choice for you.
While we have no flat roads at all, the main coast way is relatively easy to cycle through, with its many short ups and downs, and viable to anyone in good health, without requiring high fitness levels. As soon as you leave it for the secondary routes, which lead to more fulfilling high viewpoints, you'll have to face some quite long climbs, with occasional steep sections. Those can be an appreciated challenge for experts, but what about anyone else looking for a relaxing ride? That's where e‑bikes come into play! With them, even the steeper slopes turn flat, allowing everyone to conquer the summits in a relaxing way.
Safety is another important topic: there are no dedicated bike lanes here (nor there would be any space to build them!), and roads are mostly narrow and winding, so basic riding skills are required. You need to be able to steadily ride a bicycle in order to handle eventual hazards on narrow or busy road sections. We try to stay away from cars as much as possible but, especially on the main coast road in high season, having to share it with them is inevitable, and it's necessary to follow the traffic laws. Keeping that in mind, it's not nearly as dangerous as it may sound, since drivers are well aware of the many cyclists around, and they can't drive too fast anyway because of the many bends, but we suggest to those who can barely stand on a bike, or ride very rarely, to choose a different activity in this area.
But when is the best time to come here for a ride? Believe it or not, it is possible to cycle in Amalfi Coast all year long! Each season has its features, so let's learn more about that…
What to bring:
comfortable sportswear;
trainers or cycling shoes;
sunglasses.
If riding on long routes or for more days:
gloves;
padded cycling shorts or underwear.
While we provide helmets free of charge for rentals and tours, we usually suggest to bring your own for hygiene and safety reasons, as we can't always guarantee a fitting size. Wearing a helmet is not mandatory, but highly recommended.
When to come?
Spring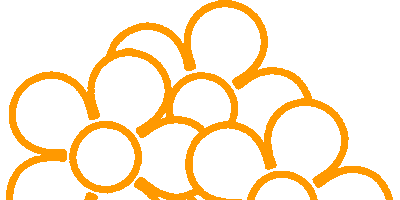 Spring starts quite early here: March and April are usually quite warm already, especially on sunny days, but it gets chilly in shady places or during descents, and there's still some chance of rain now and then. May and June have the best weather for cycling, as it's already very warm, but not yet too hot! In early spring the coast is still not crowded, while it starts getting busy approaching the summer.
Also bring:
long sleeves in early spring, short sleeves in late spring (but better have both);
windbreaker;
raincoat.
Autumn September and October are also the best months to visit and cycle Amalfi Coast. While still having summer-like warm and sunny days, it's not too hot and overcrowded. In November and December it slowly gets colder, but it's usually raining, so winter rules about planning apply.
Also bring:
short sleeves in early autumn, long sleeves in late autumn (but better have both);
windbreaker;
raincoat.
Summer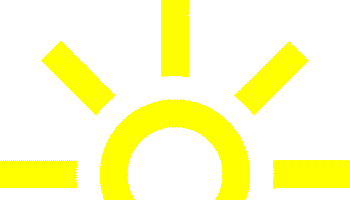 In July and August it gets quite hot and overcrowded, so we suggest going for secondary roads and gaining altitude to reach fresher air. While in the warmest days the best would be just going for a swim, if you wish to visit the coast by land bikes are the most refreshing way to do that. You won't melt in a car or bus, but will enjoy the apparent wind got from the speed. You will still sweat while going uphill, but if using e‑bikes, it won't be that bad! Early booking is strongly reccommended for this season.
Also bring:
short sleeve clothes;
swimming suit;
sunscreen if light skinned;
cap if not using helmet.
Winter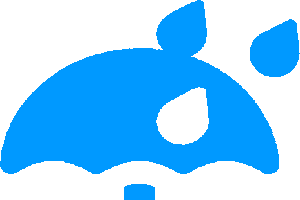 January and February are the coldest months, but the average temperature seldom gets below 10 °C. You won't walk around in t-shirt, but will not be freezing either! In winter you can enjoy even the main roads of the coast without noises and traffic, under a new light and with different colors. However, the days are much shorter and the chance of rain is quite high, making it inadvisable to plan and book early in advance. If you happen to come by at this time of the year, check the short term weather forecasts, and don't miss a great ride on those fresh sunny days!
Also bring:
thermal windproof jacket or underwear;
raincoat;
long finger gloves;
ear band.
The perfect routes for your wishes…
The Amalfi Coast and Sorrento Peninsula area is not huge, and while in a week you can visit most of its best sights and unmissable places, choosing a route for a single day or half day tour can be a challenge because of the variety of our land. What are you most interested in? Are you looking for the most popular destinations, like Positano or Ravello? Or do you prefer to focus on avoiding busy roads, and discovering less known beautiful places? In which season are you coming, and is it a weekend day? Would you prefer a slow and relaxing trip, or are you looking for a challenge? If you don't already have a clear idea for a route and bike category to choose, let us use all those variables to come up with the itinerary that best fits your needs and preferences.
Our tours normally start and end in Amalfi, but on request it's possible to add our bike delivery service, to start from your accommodation in any other town on the coast.
The routes listed below are just some of the options you can choose from, or to use as inspiration to set up your own trip.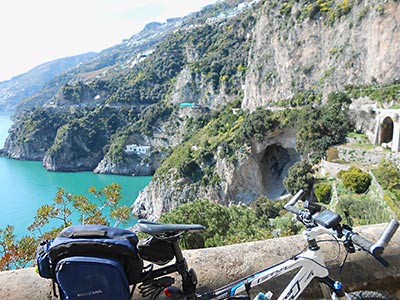 The Amalfi Drive
The famed main road of Amalfi Coast in all of its glory!
Going from Vietri sul Mare, right next to Salerno, all the way to Sorrento, this gorgeous winding road connects most of the towns of the coast, passing through Amalfi itself and Positano as well, and it's the only route around easily accessible to anyone with a basic fitness level, without using e‑bikes.
With the breathtaking sceneries all the way through, most wanted destinations to visit and relatively flat roads (don't get fooled, it's never really flat and there will still be some climbing to do, but nothing as demanding as on the secondary routes), it seems a no brainer to choose it when going for a single ride, but there are downsides to consider as well, since being this way the only viable one between the main towns, it really gets overcrowded with cars and buses in summer, weekends and holidays. If you really don't want to miss it, you will be free to choose this itinerary for your ride anyway, but we recommend following our advises and past experience when we suggest alternative routes for the days you are requesting.
Best for…
…a tour on conventional bikes;
…a half or full day trip;
…the quiet low season days;
…the cold days;
…the most wanted destinations;
…the great view all the way.
Towns touched:
Amalfi,
Conca dei Marini,
Furore,
Praiano,
Positano,
Vico Equense,
Piano di Sorrento.
Starting from Amalfi as usual, we just skip the most busy section leading to Salerno, and head to the right (facing the sea) towards Positano. The route can't get easier than that: you just need to follow the main road ignoring all deviations on the right, and you will pass Conca dei Marini (also having the chance to stop on the way for a visit at the Emerald Grotto), the lower part of Furore with its famous Fjord, the peaceful fishermen village of Praiano and then will finally get to Positano.
At its first crossroad, you'll be forced to stay on the right, as the road to the left, leading to the center, is a one way. If you got enough cycling and are eager to visit the town, you can just walk to the center as it's just a few minutes away, but for a more satisfying tour keep climbing to the top and beyond Positano for a few km, and you will notice that the road gets much wider and quieter as you are entering the Sorrento Peninsula area. For a longer ride, you can even reach Sorrento itself, but be warned that you will have to face a very challenging slope on your way back.
Coming back from the detour, at a crossroad on the top of Positano (Chiesa Nuova) you can now turn right to descend the one way to the city center, and finally enjoy a tour of the town, before heading back to Amalfi.
Distance:
~49 km
Altitude:
min: ~0 m, max: ~260 m, avg: ~110 m
Ascent:
~810 m
Max incline:
~14% (8°)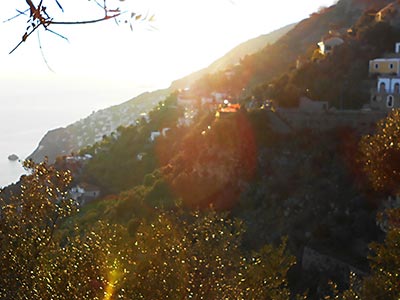 Tour of Agerola
A great day tour towards the rural town of Agerola, to gaze at the Amalfi Coast from above.
On this relatively quiet route, it's possible to admire the sea all the way up to the top, while riding on a long uphill road interesting for fit cyclists, but made accessible to anyone by using e‑bikes. You will pass through the upper part of Conca dei Marini and Furore, a colorful town adorned with paintings and artworks all along the road.
Once in Agerola, tasting the local products is a must; wines, mozzarellas and seasonal vegetables from this town are popular all across the region, and beyond! You might want to burn some calories after that, so it's possible to wander around its scattered hamlets and reach one or two opposite panoramic edges, facing Amalfi and Positano from above, before descending back.
Best for…
…an e‑bike relaxing tour;
…experts riding road bikes;
…a full day sightseeing trip;
…a half day training;
…the hottest days;
…the great view all the way;
…the tasty local food.
Towns touched:
Amalfi,
Conca dei Marini,
Furore,
Agerola.
Reaching Agerola from Amalfi is very easy: just follow the main coast road to the right (facing the sea) towards Positano, and a couple of km past Amalfi you will reach a crossroad. Going left would lead you to Positano, while keeping the right you'll be on track to Agerola. Then you just need to follow the main road and avoid detours up to the top.
Once in Agerola, you can keep following the main road until you reach the long tunnel at the very top, detour to any secondary road to explore the little borgs, or follow our GPS track to reach the two panoramic edges, and then descend back to Amalfi from the very same road. As you can see in our track, there's an optional detour you could take while coming back, to ride on a slightly different way passing through the center of Conca dei Marini: you can notice it while descending, when you'll see a former monastery just at the right of a tunnel, and you can take the tight turn on the right.
Distance:
~57 km
Altitude:
min: ~10 m, max: ~830 m, avg: ~510 m
Ascent:
~1220 m
Max incline:
~15% (9°)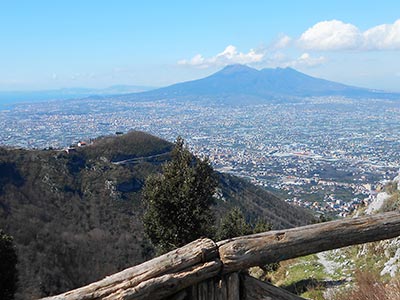 Chiunzi Pass loop
This day tour is ideal on the busiest summer days or holidays, when the main coast roads are overcrowded with cars and buses, and you want to run away from all the turmoil. This secondary road leads more inland and up to the mountains, but without giving up to some gorgeous views on the coast, as well as passing by Ravello, one of the finest towns in the area.
While it's still necessary to begin on the main road, it's just a matter of a few km, after which we detour to a long slope leading up to Scala and Ravello, and further on to the Chiunzi Pass, where it's possible to enjoy a breathtaking sight of Mount Vesuvius and the Gulf of Naples. E‑bikes will definitely help if you're not ready for a long climb, or just want to take it easy.
There are many restaurants or farm holidays to stop for a lunch with local products in the rural village of Tramonti, before descending back to Maiori, to close the loop.
Best for…
…an e‑bike relaxing tour;
…experts riding road bikes;
…a full day sightseeing trip;
…a half day training;
…the hottest days;
…the busiest days;
…some popular destinations;
…some great views.
Towns touched:
Amalfi,
Atrani,
Ravello,
Scala,
Tramonti,
Maiori,
Minori.
While it's not easy to get lost around here, there are a few detours you should look out for, to get the best out of this tour.
Starting from Amalfi, follow the main coast road towards Maiori and Salerno (to the left facing the sea) for just a couple of km, after which you will be at a crossroad: take the tight turn to the left, leading up to Ravello. 3-4 km of steep climb later, you will be at another crossroad: you can take the left for an optional panoramic detour in the village of Scala, as you can see on our GPS track, but be warned that you'll meet some very steep slopes, which will be well rewarded by great views over Ravello. The detour will lead you back to the same crossroad, where you can continue on the right towards Ravello. You will see a tunnel; crossing it and turning left will lead you towards the Chiunzi Pass but, before continuing, you can't skip a stop for a visit in Ravello, so you can go to the right first, to reach the town center.
Keep going up to the top on the only road available, and after a few km of descent there will be a crossroad, and some other climbing to do; just stay on the left. You will know you have reached the Chiunzi Pass once you are at a big roundabout, with a restaurant on the left. Taking the turn to the right would lead you down to Maiori, but we suggest a different and more quiet road to reach the same place; but, first of all, go around the roundabout and turn left, and in a few meters you'll be able to look at the other side of Lattari Mountains, facing the Vesuvius and Naples area.
For the secondary road down to Maiori, go back for a few hundred meters on the way you came from, and you will see a small deviation with a sign to "Capitignano" (hamlet of Tramonti). Enjoy the long descent and, once you reach the seafront in Maiori, just turn right and ride the main coast road back to Amalfi in 5-6 km.
Distance:
~46 km
Altitude:
min: ~0 m, max: ~690 m, avg: ~340 m
Ascent:
~1100 m
Max incline:
~16% (9°)