Amalfi: Ancient Maritime Republic.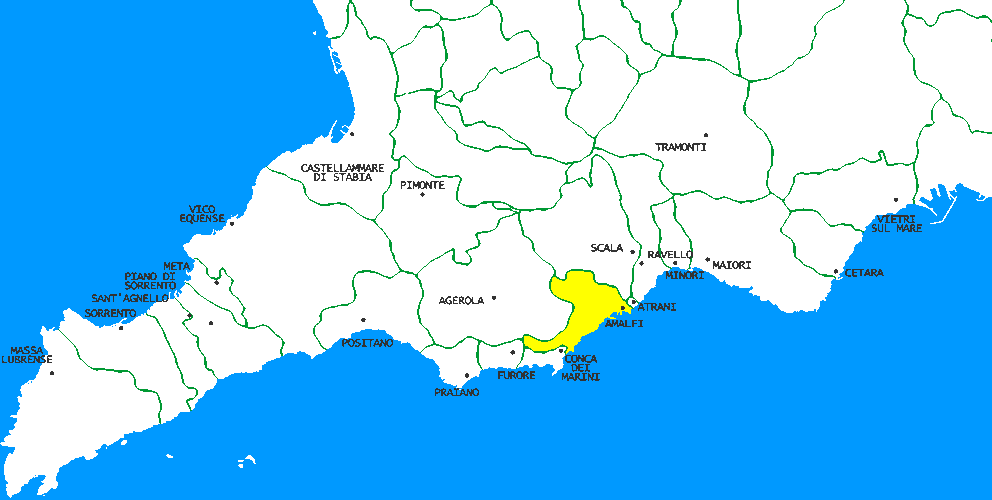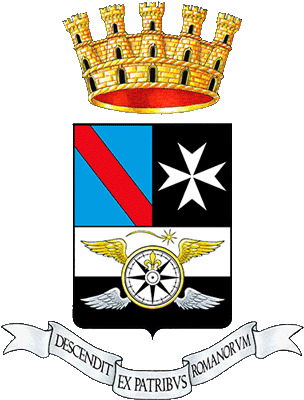 Once the center of a large Maritime Republic (among Italy's most famous ones, together with Genoa, Pisa and Venice), the municipality of Amalfi covers a much smaller territory nowadays, but it's still one of the main attractions of Amalfi Coast, to which it gives the name, and holds an immense value of culture and history.
Built by Romans as a small fishing village in the 5th century, it soon became a crucial stronghold and center of commerce within the Mediterranean Sea, contended in many wars. Its peak was between 9th and 11th century, when it was an independent republic and dukedom, with its own currency, the Tarì.
While its main economy switched from fishing, to commerce, to tourism today, its main typical product is still the lemon, which is worked into plenty of delicacies you shouldn't miss during your visit! From the delicious pastry "Delizia al limone", to Limoncello liquor to sip after a meal, you'll find many more lemon flavored/themed items and food to choose from to taste or bring home as a souvenir.
Amalfi is right by the sea, so most people come to enjoy its beach and go for a swim; however, like for the rest of the coast, its mountain side is just as beautiful, and there's so much to discover by hiking on its paths, or just having a stroll through the town's alleys. Its hamlets Pogerola and Tovere are up in the mountains, offering great views and more quiet, but less access to services and transport.
The town's feel and atmosphere change drastically between season, going from very quiet and chilly in winter, to hot and overcrowded in summer. Like other popular tourist towns of the area, the best time to visit it is between seasons, in spring or autumn.
Amalfi… from the cycling point of view:
Amalfi is our base of operation, and where our warehouse and bikes are located; however, that's not the only reason we consider it an ideal starting point for a cycling tour: whether you are looking for a day trip or to cycle for a few days, Amalfi's position in the middle of the coast allows for a variety of different routes to choose from. You can head southwest towards Positano, west and up to Agerola, north to Ravello or northeast towards Vietri sul Mare, and enjoy a different medium-long ride in each direction.
Staying locally, instead, the town center is small and narrow, so cycling around the town is not the best in high season, when it's very crowded with people. Sometimes it's not possible to avoid this street in order to head out of town, though; unless you are skilled and confident enough, you might want to walk the bike through the busiest parts. Also be very careful about traffic in the first couple kilometers heading out, but not let it get to you: once out of the busy part you'll start enjoying the ride at its best, and understand why everyone is loving it despite the few busy stretches.
Leaving the center towards west, you'll pass the tiny hamlets of Pastena, Lone and Vettica Minore. Pogerola and Tovere, instead, are on much higher grounds and require detouring from the main roads. Those are nice short challenging rides too, but you should remember that if you're choosing an accommodation in Amalfi and it turns out in one of those hamlets: be aware that your rides will end with a steep climb!
Amalfi's center is at sea level instead so, any direction you choose, you'll be up to a harsh warm-up going uphill. On the bright side, that means you'll be finishing the ride coming back on a fun descent!
Our warehouse is up the main street a few hundred meters from the main square, however only residents are allowed to drive through it: should you be driving from another town to start a tour or collect a bike, you'll need to park outside (ie. at the outdoor Berma Parking behind the harbor, or Luna Rossa garage towards Atrani, both toll parking lots, as there's no free options) and walk for 10/15 minutes to reach us. We always recommend using public transport, especially ferries, to reach us in high season.
You can pick up rental bikes at our warehouse here, or we can bring them to your accommodation (at road level) within Amalfi center at no extra costs. Delivery (of up to 4 bikes at a time) to its hamlets Lone, Pastena, Pogerola, Tovere and Vettica Minore, would instead cost a 15 € fee one way, 25 € for both delivery and pick up.
Some attractions we recommend here:
Valley of the Mills
If you are into hiking and will have enough time to spend in the area, put this in you must do list. This trail, mostly steps, will lead you through wild nature and ancient ruins of iron foundries and paper mills, following the river Chiarito and its waterfalls. Keep walking up and you can reach the source of the river at the Ferriere Valley Nature Reserve, in the municipality of Scala. A few hours are usually enough for this relatively short hike.
Check out its website.
Amalfi Cathedral
Once in the main square of the town, you will immediately notice the imposing Cathedral at the top of a long flight of steps. This church, dedicated to Amalfi's patron saint Andrew and hosting his relics, was built in the 10th century, and reconstructed several times since then, acquiring different architectural styles like Romanesque, Baroque and Rococo. Next to it, you can find and visit the Diocesan Museum too.
Paper Mill Museum
Handmade Amalfi paper, or "Charta Bambagina" is an historical typical product from the town dating back to the Middle Ages. You can still find samples of this peculiar paper, which is used these days for souvenirs or important communications like wedding invitations. Ruins of the ancient paper mills can be seen in the Valley of the Mills, but fortunately there's still some producing it today. Pay a visit to this museum to learn how it is made!
Check out its website.
Museum of the Compass and of the Maritime Dukedom
Hosted in the Ancient Arsenal of the Republic, this museum retraces the history of the former dukedom, and of the compass which, according to legends, was invented by the Amalfi citizen Flavio Gioia (portrayed with the statue at the central roundabout). The stories were disproved, though, as it seems the tool was imported from China and only introduced and improved here.
This is just an overview with our picks and there might be more worth seeing: we encourage doing some more research to also check updated opening times, fares and other details of the attractions listed.
Yearly local events worth mentioning:
Regatta of the Ancient Italian Maritime Republics
June
To recall the achievements and rivalry between the Ancient Maritime Republics Amalfi, Genoa, Pisa and Venice, this race with traditional rowing boats is held every year in June. It cycles through the four cities so, once every four years, the event is held in Amalfi.
Check out its website.
Saint Andrew's patron feasts
June 27th and November 30th
Saint Andrew (Andrea) is Amalfi's patron and he's celebrated on these festivals with a procession and a fireworks display. As a tradition, at the end of the procession, the silver statue of the Saint is carried running up the stairs of the Cathedral.
The official festivity is in late autumn, but a second festival is celebrated in summer, on a date chosen to remember one of his miracles. It is believed, in fact, that the Saint saved the town from a pirate attack in the 16th century, by summoning a storm which destroyed their fleet.
Potato Festival
July / August
The mountain hamlet Tovere springs to life to celebrate the harvest of potatoes with this summer festival, in which you can taste a full meal based on this tasty vegetable.
Pumpkin and Zucchini Festival
August
Enjoy the view from the hamlet Pogerola, while tasting delicious dishes made with fresh pumpkins and zucchini at this summer festival.
Byzantine New Year's Day
August 31st - September 1st
Amalfi and Atrani recall the beginning of a new fiscal year of the Ancient Maritime Republic on September 1st when, in the 9th and 10th century, new leaders were put in charge by the Byzantine Emperor. The festival is celebrated with live performances and an historical parade.
During these events, the town gets busier and there might be heavy traffic or few parking lots available: plan carefully if you are travelling to or through it on these dates.
Events may change through the years, and some may be skipped altogether. Please look for an updated schedule of the specific ones you would like to attend to.